Buster Williams
4et "Something More"
Touring June/July 2019. Also available on Booking 
Request at different period of the Tour.
Featuring
BUSTER WILLIAMS [bass]
STEVE WILSON [alto & soprano saxophone]
GEORGE COLLIGAN [piano]
KUSH ABADEY [drums]
Buster Williams is a prodigious artist whose playing knows no limits. He has played, recorded and collaborated with jazz giants such as Art Blakey, Betty Carter, Carmen McRae, Chet Baker, Chick Corea, Dexter Gordon, Jimmy Heath, Branford Marsalis, Wynton Marsalis, Gene Ammons, Sonny Stitt, Herbie Hancock, Larry Coryell, Lee Konitz, McCoy Tyner, Illinois Jacquet, Nancy Wilson, Elvin Jones, Miles Davis, the Jazz Crusaders, Ron Carter, Woody Shaw, Sarah Vaughan, Benny Golson, Mary Lou Williams, Hank Jones, Lee Morgan, Jimmy Rowles, Hampton Hawes, Cedar Walton, Bobby Hutcherson, Billy Taylor, Sonny Rollins, Count Basie, Errol Garner, Kenny Barron, Charlie Rouse, Dakota Staton, Kenny Dorham, Freddie Hubbard, etc. to name a few. Mr. Williams has recorded soundtracks for movies including Les Choix des Armes; McKenna's Gold with Gregory Peck; David Lynch's, Twin Peaks "Fire Walk With Me"; Spike Lee's, "Clockers" etc. Television commercials include, Coca-Cola; Old Spice; Tott's Champagne; Prudential Insurance; Chemical Bank; Alpo Dog Food; HBO; Budweiser Beer; etc. TV shows include an appearance on the Johnny Carson " Tonight Show' with Errol Garner; the Jay Leno "Tonight Show" where he performed five of his original compositions with the Branford Marsalis Tonight Show Band. Other television shows include: Sesame Street with Joe Williams; A&E (Arts and Entertainment) with Bill Cosby; The Joan Rivers Show with Bill Cosby; The Andy Williams Show with Nancy Wilson; the Joey Bishop Show; the Grammy Awards with Herbie Hancock, Tony Williams and Bobby McFerrin; the Mike Douglas Show; the Today Show; etc. Awards include a Grammy in 1979; the Min-On Art Award; the SGI Glory Award the SGI Cultural Award; the RVC Corporation RCA Best Seller Award; NEA recipient; New York Fellowship Grant; 5 Stars from Downbeat magazine for the album "Crystal Reflections" listed in Who's Who in Black America; and numerous proclamations.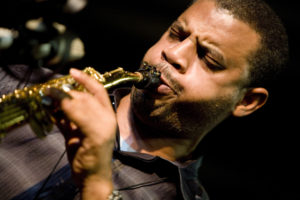 Steve Wilson, (alto & soprano Saxophone)
has brought his distinctive sound to more than 150 recordings and performances led by such celebrated and wide-ranging artists as Chick Corea, George Duke, Michael Brecker, Dave Holland, Dianne Reeves, Bill Bruford, Gerald Wilson, Maria Schneider, Joe Henderson, Charlie Byrd, Billy Childs, Karrin Allyson, Don Byron, Christian McBride, Marvin "Smitty" Smith, The Mingus Big Band, Buster Williams, Mulgrew Miller, The Count Basie Orchestra, Johnny Mandel, Beyonce Knowles, Roy Hargrove, Bill Stewart and among many others.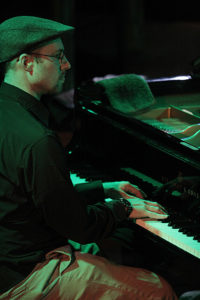 George Colligan (piano)
an award-winning composer (Chamber Music America/Doris Duke Foundation grant recipient) and player Jazz Competition), draws fans with his zesty sideman work with players like Cassandra Wilson, Don Byron, Buster Williams, and Lonnie Plaxico, both on the bandstand and in recording sessions (with over 70 sideman credits). George Colligan has toured, recorded, and/or performed as a sideman with Gary Bartz, Benny Golson, Gary Thomas, Steve Coleman, Eddie Henderson, Ralph Peterson, Vanessa Rubin, Steve Wilson, Jane Monheit, Ravi Coltrane, Lenny White, Michael Brecker, Mike Clark, Nicholas Payton, Sheila Jordan, Janis Siegel, Christian McBride, Billy Hart, Charles Fambrough, Mingus Big Band, AL Foster, Mark Turner, Lee Konitz, Jamie Baum, Michal Urbaniak, Jack DeJohnette, Larry Grenadier, Randy Brecker and Stefon Harris, among others.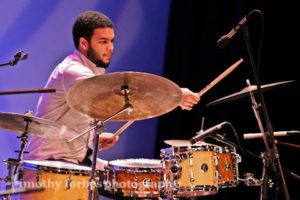 Kush Abadey (drums)
has performed and recorded with many notables including
Ravi Coltrane, Chris Potter, Nicholas Payton, JD Allen, David Weiss, Andrew White, Gilad Hekselman, Azar Lawrence, Terrance Blanchard, Frank Lacy, Jeremy Pelt, Tomasz Stanko, Barry Harris, Gary Thomas, Jared Gold, George Colligan, Dave Stryker, Josh Evans and David Gibson among others. In his early twenties, Kush Abadey is an accomplished drummer & bandleader. When he was just 16 years old he joined the ranks as the newest member of the Wallace Roney Quintet, and has traveled, performed and recorded with the band at various concerts, jazz festivals and club dates in many parts of the world.
NOMADS

RELATED TO ONE

JOINED AT THE HIP

EVERY TIME WE SAY GOODBYE