PAPO VASQUEZ
PAPO VASQUEZ Mighty Pirates Troubadours
Tour To Be Announced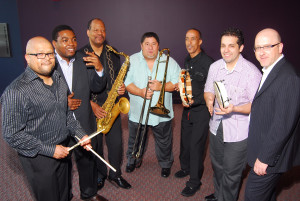 Trombonist, composer and arranger Papo Vàzquez is more than thirty-five years into a career spanning the jazz, Latin, Afro-Caribbean and classical music and recording worlds. Recent honors include a commission from Wynton Marsalis for a new work inspired by Cuban painter Wilfredo Lam, which was performed as part of Jazz at Lincoln Center's Jazz and Art concert this past February, and a Grammy nomination for Best Latin Jazz Album for Papo Vàzquez' Mighty Pirates 2008 recording Marooned/Aìslado, on his own independent label, Picaro Records. He will be presented with a Latino Masters Award by the Pregones Theater in 2011 under the National Endowment for the Arts American Masterpieces: Presenting program.
Beginnings
Vàzquez was born in 1958 in Philadelphia, Pennsylvania. After spending his early years in Puerto Rico, he grew up in the heart of North Philadelphia's Puerto Rican community. He bought his first trombone from a friend for $5 and joined the elementary school band. At the age of 14, an uncle recommended him to a local salsa band, where he met trumpet player Jimmy Purvis. Purvis inspired Papo's lifelong passion for jazz by giving him two records: J.J. Johnson's Blue Trombone and John Coltrane Live at the Village Vanguard. By 15, Vàzquez was performing with local Latin bands in Philadelphia and accompanying visiting artists such as Eddie Palmieri. At only 17, he moved to New York and was hired to play for trumpet player Chocolate Armentero's band, and soon began playing and recording with other top artists in the salsa scene like The Fania All- Stars, Ray Barretto, Willie Colón, Grupo Folklorico Nuyorquino, Eddie Palmieri, Larry Harlow, and Hector La Voe. Vàzquez also became a key player in New York's burgeoning Latin jazz scene of the late 1970's, performing with Jerry Gonzalez, Hilton Ruiz, and more. He began studying with Slide Hampton, eventually recording and performing for Slide Hampton's World of Trombones. Vàzquez went on to perform with jazz luminaries Dizzy Gillespie, Frank Foster, Mel Lewis, Mario Rivera, Hilton Ruiz and Milton Cardona, and to tour Europe with the Ray Charles Orchestra. By the age of 22, Vàzquez had traveled the globe. He was a founding member of Jerry Gonzalez' Fort Apache and Conjunto Libre as well as of Puerto Rico's popular Latin fusion band Batacumbele, performing and recording several albums with the group from 1981 to 1985. Upon his return to New York, he joined Tito Puente's Latin Jazz Ensemble, traveling with them as principal trombonist, and toured Europe with Dizzy Gillespie's United Nations Orchestra.
Leader, Composer, Innovator
Vàzquez has always been deeply moved by jazz, and specifically cites the music of John Coltrane and J.J. Johnson as having most influenced him. In addition, his appreciation for and knowledge of the indigenous music of the Caribbean peoples provides him with a unique ability to fuse Afro-Caribbean rhythms, specifically those from Puerto Rico, with freer melodic and harmonic elements of progressive jazz. During his time back in Puerto Rico with Batacumbele in the 1980s, he began to experiment with "bomba jazz," a mixture of jazz and traditional Puerto Rican bomba. In 1993 he recorded his first album as a leader, Breakout. He continued collaborating with a variety of Latin Jazz artists, contributing to Hilton Ruiz's Manhattan Mambo and Abrazate: Descarga Boricua, Vol. 2. In 1999, he released a live recording featuring a number of important New York Latin and jazz artists, including bassist Andy Gonzalez, saxophonists Willie Williams and Michael Brecher, and drummer Horacio Hernandez. The release of Pirates & Troubadours – At the Point, Vol. 1 was followed next year with At The Point, Vol. 2. This project evolved into the Pirates Troubadours, an "Afro- Puerto Rican jazz band" including musicians such as Roberto Cepeda Milton Cardona and Anthony Carrillo on percussion, John Benitez on bass and Dafnis Prieto on drums, The group performed at festivals around the world and released Carnival in San Juan in 2003, followed by From The Badlands in 2007. During this time, interest in Vàzquez as a composer grew. He was the first artist to receive a composer's commission (Iron Jungle) for the Afro-Latin Jazz Orchestra, then a resident orchestra at Jazz at Lincoln Center. His first classical composition, Palomita – Afro-Caribbean Suite, was commissioned by the Bronx Arts Ensemble and premiered at the Hostos Center for the Arts and Culture in the Bronx in 2004. In 2007, on a commissionfrom the Bronx River Arts Center, he wrote Sube el Rio (River Rising) for their 20th Anniversary "Bronx River Sounds" concert. The same year, through a grant from The Painted Bride Art Center in Philadelphia, Vàzquez was asked to expand Pirates Troubadours, and was commissioned to compose new music for a 19-piece, Afro-Puerto Rican Jazz Orchestra. The 2008 event was recorded live, resulting in Papo Vàzquez Mighty Pirates Marooned/Aìslado, which received a Grammy nomination for Best Latin Jazz Album. The Mighty Pirates Orchestra continues to allow Vàzquez the opportunity to blend multi-faceted compositions and trombone style with rhythms of Afro- Caribbean origins and jazz. Sometimes joined by folk dancers that enhance the music, the orchestra has garnered rave reviews. They are known for Papo's variations on t raditional themes, and terms like like Yuba' Jazz, Holande Pirata, Jibaro Waltz, Plena Funk and Mapeye Jazz are used to help describe his music. In 2009, Vàzquez premiered a composition "Oasis" with the Bronx Arts Ensemble at its Memorial Day Concert. It was his seventh year writing for this concert, held annually in Van Cortland Park in the Bronx. This work grew into the expanded Oasis Project, which had its 2010 premiere at the Pregones Theater in the Bronx with the Pirates Troubadours performing with the Bronx Arts Ensemble and Multicultural Music Group. Vàzquez has also shared his compositions with Ruben Blades (Tengan Fe/Antecedente), Hilton Ruiz (Manhattan Mambo) and Dave Valentin (Tropic H eat), among others. His song "Baila Plena" from the At The Point, Vol I. recording is featured on the soundtrack for the movie Free Enterprise. Other movie credits include playing on the soundtracks for The Mambo Kings and Spike Lee's Mo' Better Blues.
Selected Honors and Awards
2011 – Latino Masters Award by the Pregones Theater under the National Endowment for the Arts American Masterpieces: Presenting program
2010 – Commission from Wynton Marsalis for a new work for Jazz at Lincoln Center's February 2010 Jazz and Art Concert inspired by Cuban painter Wilfredo Lam
2008 – Grammy Nomination: Best Latin Jazz Album for Papo Vàzquez Mighty Pirates Marooned/Aìslado, Picaro Records
2005 – Recognized by Los Pleneros de la 21 for musical contributions in the development of Puerto Rican music.
2004 – Commission ("Iron Jungle") for the newly created Afro-Latin Jazz Orchestra in residence at Jazz at Lincoln Center
2004 – First classical commission ("Palomita") for the Bronx Arts Ensemble.
2004 – Grammy: Best Jazz Instrumental Album, Wayne Shorter's Alegria (Verve Records)
2001 – New York Times' list of "Top 10 Undeservedly Obscure Recordings"
1987 – Taller de Jazz Don Pedro in Puerto Rico Award
1980 – DownBeat Magazine's list of "Talent Deserving Wider Recognition"
1979 & 1978 – "Best Trombone," Latin New York Magazine
Discography
Papo Vazquez The Mighty Pirates – "Marooned/Aislado" – Grammy Nominated – 2009 Picaro Records
Papo Vazquez Pirates Troubadours From The Badlands – 2007 Picaro Records
Tego Calderon – The Underdog, El Subestimado 2006 Jiggiri Records
Shakira & Wyclef Jean – 2006 World Soccer Final Theme (Bamboo)
Ray Barretto – Standards Rican-ditioned 2006
Los Pleneros de la 21 – Grammy Nominated – Para Todos Ustedes 2005
Bebo Valdez – Grammy Nominated – Bebo de Cuba 2005
Papo Vazquez Pirates Troubadours"Carnival in San Juan" 2003 Cu-Bop Records
Wayne Shorter "Alegria" 2003 Verve – 2004 Grammy Winning CD
Freddie Cole "Rio de Janeiro Blues" Telarc
Chico O'Farrill "Carambola" Fantasy
Papo Vazquez "Pirates Troubadours,at the Point vol.2" Cubop
Papo Vazquez "Pirates Troubadours,at the Point vol.1" Cubop
Milton Cardona "Cambucha" American Clave
Arturo O'Farrill "Bloodlines" Fantasy
Chucho Valdes "All Stars Bronx Lebanon New Directions Project" RMM
"Jammin' in the Bronx" Papo Vazquez Band, Chucho Valdes & The Machito Orq RMM
Chart Busters with Dr. Lonnie Smith, Lenny White, Hiram Bullock, Craig Handy, Papo Vazquez, et.al.
Chico O'Farrill "Pure Emotion" Fantasy
Steve Berrios "First World" Fantasy
Descarga Boricua "Descarga Boricua" Tierrazo
Dave Valentin "Tropic Heat" GRP
Juan Luis Guerra 440 "Fogarate" 440
Papo Vazquez "Breakout" Timeless
Ruben Blades "Amor y Control" "Antecedente" & "Caminando" Sony
Hilton Ruiz "Mannhatan Mambo" Telarc & "Hands on Percusion" RMM
Tito Puente "Out of this World" Tito Puente "100th" RMM
Jerry Gonzalez Fort Apache Band "Obatala" & "Live in Berlin" Enja & "Ya Yo Me Cure" American Clave
New York Latin Jazz All Stars "Feliz Navidad" Cap
Batacumbele "Con Un Poco de Songo" & "En Aquellos Tiempos" Tierrazo
Ray Barretto "Ricanstruction" Fania
Slide Hampton "World of Trombones" WEST54
Chico O'Farrill "Calle 54"
Fania All Stars "Habana Jam" Fania
Willie Colon & Ruben Blades "Siembra" Fania
Willie Colon & Celia Cruz Fania
Hector La Voe "De Ti Depende" Fania
Mon Rivera "Vuelvo a Vivir" Fania
Television, Motion Pictures or Movie Soundtracks
PINERO
FREE ENTERPRISE "Baila Plena" featured on film.
NEW YORICAN DREAMS "Coqui & Baila Plena" featured on film.
THOMAS CROWNE AFFAIR
CHICO O'FARRILL
PEREZ FAMILY
MAMBO KINGS
SPIKE LEE'S MO' BETTER BLUES
Q&A
HURACAN

EL MORRO
SALTO ANGEL
ROLLER COASTER